English Teacher from US wins $1m Global Teacher Prize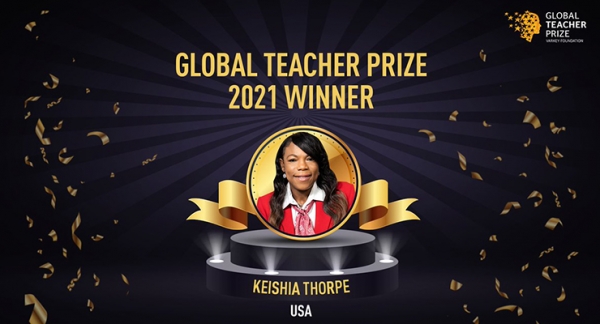 A high school English Teacher in Maryland, who opened up college education for low-income immigrant, first-generation American, and refugee pupils has won the $1 million (£745,670) Varkey Foundation Global Teacher Prize 2021, in partnership with UNESCO.
Keishia Thorpe teaches 12th graders at International High School Langley Park in Maryland in United States, a school where 95 percent of pupils identify as low-income. Ms Thorpe was selected from more than 8,000 teachers in 121 countries by the Vareky Foundation whose annual award recognises an educator who has made an outstanding contribution to the profession.
The nominee included a Liverpool teacher David Swanston, who was shortlisted for his work with visually impaired children.
Ms Thorpe redesigned the school's curriculum for the English department to make it culturally relevant to her pupils who are first-generation Americans, immigrants, or refugees from mostly Africa, the Middle East, the Caribbean, and South and Central America. Since then, her English language learners have shown a 40 per cent increase in their reading.
She spent a lot of time encouraging her pupils to apply for college and helped them with their applications and accessing fully-funded scholarships.
In 2018-2019 she helped her senior students win more than $6.7 million (£5m) in scholarships to 11 colleges, with most of them not having to pay tuition.


Ms Thorpe, who was surrounded by family as she watched the prize ceremony in Paris via video link, said of her win: "This is to encourage every little black boy and girl who looks like me and every child in the world that feels marginalised and has a story like mine and felt they never matter.
"We must ensure all students have the opportunity to succeed and no laws or policies should strip them of that."
Born in Jamaica, she grew up in poverty before immigrating to the US on a track and field scholarship.
While studying, she volunteered as a tutor in an inner-city school and was inspired to become a teacher when she saw the lack of opportunity facing students.
Her caring nature goes beyond the classroom. Outside the classroom, she has been an advocate for minority students and equal access to education. She also founded a non-profit with her twin sister Dr Treisha Thorpe, offering support services to immigrant students and their families.
"Education is a human right, and children should be entitled to have access to it," she said during the online ceremony.
She added: "Every child needs a champion, an adult who will never ever give up on them, who understands the power of connection and insists they become the very best they can be.
"This is why teachers will always matter. Teachers matter."
Last year, the Varkey Foundation launched the Global Student Prize, a student equivalent of the Global Teacher Prize. The award will highlight the work of exceptional pupils and students making an impact on learning and the world.
The winner of this first new $100,000 award was given to Jeremiah Thoronka, a student from Sierra Leone, who invented a device that uses kinetic energy from traffic and pedestrians to generate clean power.
Both Ms Thorpe's and Mr Thoronka's win was announced on the 10th November 2021 from the UNESCO Headquarters in Paris, France.
Mr Varkey said: "Congratulations to Keishia for winning the Global Teacher Prize 2021 and Jeremiah for becoming the first ever winner of the Chegg.org Global Student Prize. Their incredible stories show the vital role education plays in tackling the great challenges of today and tomorrow."
Last year, Ranjitsinh Disale of India was named the winner of the Global Teacher Prize for his work in improving the educational outcomes of young girls in remote schools.
Mr Disale shared half of the prize money with nine other finalists.