Government plans campaign to help understand the difference between a cold and Covid symptoms
Since schools fully reopened at the start of September, 740 have been forced to close due to a lack of testing access. Headteachers across the UK are calling for the Prime Minister to address the testing capacity problems, or risk more school closures.
One of the reasons there has been a surge in tests is down to parents 'not understanding when they should and shouldn't get their child test', a source a No.10 said.
Every September, when schools return there is a spike in coughs and colds which become more common during the winter. These symptoms are becoming confused with covid-19 symptoms leading to parents seeking Covid tests for children with common colds and being kept off school.
Head of NHS Test and Trace, Dido Harding told MPs that there had been a 'very marked increase in the number of young children being tested, a doubling of children under 17 being tested', with even larger rises in those aged five to nine
The Royal College of Paediatrics and Child Health advises that children with simple cold symptoms such as a runny nose or sore throats without fever should not be tested.
Due to a lack of clarity and confusion around, the Prime Minister Boris Johnson, is planning an advertising campaign to inform teachers and parents about coronavirus symptoms and when action should be taken.
Data released from the National Association of Head Teachers union (NAHT) shows how the testing backlog is affecting schools. Data was collected from 736 schools and found:
Four in five schools have children isolating because they can't access a Covid test.
82% of schools have children currently not attending because they cannot access a test to rule out covid-19.
87% have children currently not attending because they are waiting for their test results.
45% of schools have staff currently not at work because they cannot access a test to rule out Covid-19.
60% have staff currently staying home because they are waiting for their test results.
Paul Whiteman, general secretary of school leaders' union NAHT, last week wrote to the Prime Minister with mounting concerns about the impact the lack of access to covid-19 tests is having on schools, warning that the situation is becoming increasingly disruptive and unsustainable.
Mr Whiteman says: 'Tests for covid-19 need to be readily available for everyone so that pupils and staff who get negative results can get back into school quickly.
'But we are hearing the same thing repeatedly from our members across the country – chaos is being caused by the inability of staff and families to successfully get tested when they display symptoms.
'This means schools are struggling with staffing, have children missing school, and ultimately that children's education is being needlessly disrupted.
'The government assured us that testing would be ready for schools reopening – it was one of their own key safety requirements to have in place to enable children and teachers to return.
'It is in no way unpredictable or surprising that the demand for covid-19 tests would spike when schools reopened more widely this term.
'And yet the system is in chaos. The government has failed schools and children.
'It is unacceptable for this to happen when schools have put so much effort into getting their part of the plan right, and when pupils have had to endure so much uncertainty and disruption already.'
When to take a Covid-19 test
These symptoms are generally associated with a cold.


These are the coronavirus symptoms to look out for.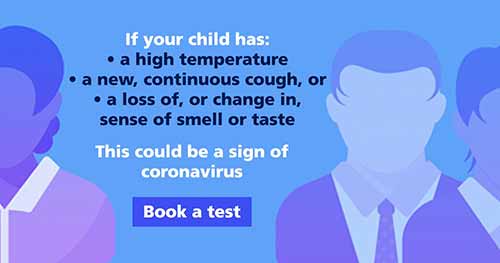 There's a new process for nurseries, schools and colleges for reporting positive confirmed cases of coronavirus (COVID-19) via a dedicated advice line.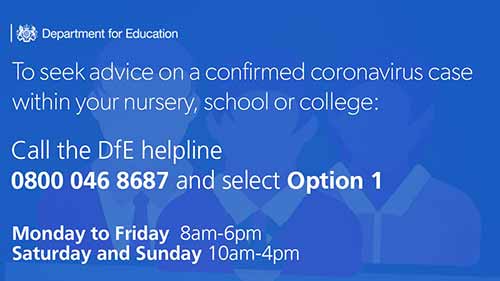 For more information visit https://www.nhs.uk/live-well/healthy-body/is-my-child-too-ill-for-school/