Live-streaming lessons from home is 'invasion of privacy'
Whilst parents are overwhelmed with the pressures of home schooling and concerned by the lack of live lessons provided, confusion has erupted over state school head teachers who are blocking teachers from hosting online lessons due to privacy concerns. They are claiming streaming live-lessons from inside a teacher's home is a 'huge invasion of privacy' and takes away 'professional distance'.
But many have asked why teachers don't utilise Zoom's 'virtual background' feature - or present in front of a blank wall. Others have asked why teachers don't go into schools to teach their remote lessons from an empty classroom.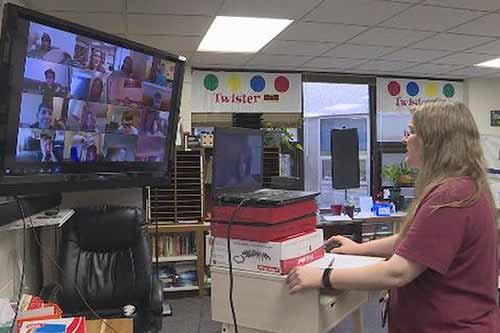 Almost three million pupils were not receiving any live lessons meaning they may not be having any interactive schooling with their teachers during lockdown.
Headteachers Banning Zoom is the fault of over-zealous teaching unions, said Chris McGovern, chairman of The Campaign for Real Education.
Speaking to Mailonline he said: "Of course you can change a background. They are finding problems where no problems exist."
"It is teachers looking for reasons to keep schools closed as part of a political battle with the Government. Here we are looking after children's futures. It seems that for a very minor aspect of this problem they are prepared to sacrifice children's futures, particularly underprivileged children.
He blames unions for creating 'an atmosphere of threat and intimidation' which puts pressure on teachers, adding: 'I don't think teachers should be seen as pawns in a political battle'.
Not all head teachers had this view. Pauline Wood, head teacher at Grange Park Primary School in Sunderland, said she was 'at a loss' as to how live Zoom lessons could be deemed a privacy breach.
She told MailOnline: "Teachers can set up their own devices in a position which suits them surely?"
"If in school, it is no different from a regular lesson. If at home, choose a blank background."
Last summer militant teaching unions strongly urged teachers not to live-stream and said teachers must be able to choose whether to live-stream lessons or not and that it should only be used 'when essential'
Pushy parents
The largest teaching union, the National Education Union appeared to suggest that only pushy parents want live lessons, adding that the call for live teaching is 'often related to minority, but insistent, parental pressure'.
And teachers' union NASUWT is strongly advising members to avoid live lessons unless there are measures in place to stop privacy breaches. The union goes as far as raising privacy concerns about pupils recording teachers' live lessons and uploading them to pornography websites.
School governor and former-teacher Calvin Robinson said he understands that some schools don't allow teachers on the premises to teach remotely. But he said a different digital background would fix any worries about teaching at home.
He said: 'It depends if they're allowed in schools, some have sent everyone home without the option to come back. 'I can relate, my mother's a lecturer and she expressed those same concerns, but she just blurs out her background. 'It can make people feel uncomfortable, but there are methods you can take. 'What I'd like to see is children back in classrooms'.
Mike Power, teacher and head of year in Manchester, said using an alternate background is 'a sensible approach'. He said: 'There will be steps people can take to keep the intrusion to a minimum such as blurring backgrounds, even removing photos from a wall to use as a blank background if necessary. 'No teachers are sat thinking how can I avoid delivering live lessons, which at times it can feel like that's what people think. 'Teachers fundamentally want to teach as best they can in the circumstances.'
Stressed out and under pressured parents have pleaded with schools to step up live online classes, as experts warned the lack of real-time lessons threatens to widen the equality gap between state and private students.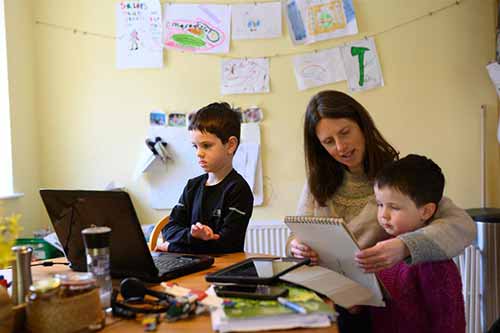 The mounting pressure on parents to juggle work and home life has been heightened by the demand to take on the role of teachers too - as the abrupt return to virtual learning wreaks havoc across the school system.
Most independent schools and top-performing state schools have rolled out full days of live lessons via Zoom and other video platforms since the new national lockdown came into force. But large numbers of secondaries and primaries, particularly in poorer areas, are relying on pre-recorded lessons, YouTube videos and online worksheets for their pupils.
Mark Lehain, director of the Campaign for Common Sense, said: 'Private schools had a big advantage: if parents can afford school fees, they've definitely got decent broadband and laptops galore at home. "State schools couldn't rely on this. But the teaching unions were a disgrace, and made things a lot worse by telling staff not to plan at home, or that they didn't need to do online teaching."
Leading education Professor Alan Smithers explained: "Children want to learn in real-time and thrive by interacting and learning with their friends. Pre-recorded lessons are no way near to being in school."
According to government guidance, primary school pupils should have an average of three hours work a day, and secondary schools should have four.
Lessons should be delivered by teachers through "curriculum resources or video", though teachers unions have stressed educators have the choice to live-stream lessons or not and they should only be used "when essential".
A poll of 800 subscribers to the app Parent Ping found: -

- 8% of parents said their child received more than five hours of live lessons
- 13% said their children were in live lessons for three to four hours
- 11% reported one to two hours
- 31% said their children had no live lessons at all
- 11% had less than one hour
Following the closure of schools last Tuesday, teachers swamped social media with complaints that they did not want to deliver lessons via video platforms.
According to the Daily Mail one teacher from Manchester said she "feels sick" with nerves before teaching a live lesson, saying: "The fact it's my home does feel invasive."
Kent headteacher Cassie Young suggested "professional distance" was essential, and claimed "working at home and seeing inside people's homes feels like a huge invasion of privacy". She added she "can't and won't" agree to staff doing live lessons due to pressure, safeguarding and workload for teachers.
Lauren Evans blasted the sanctimonious stance of staff online, writing: "Just blur your background! Microsoft Teams and Zoom, maybe you should post tips to help teachers feel more comfortable hosting live classes?"

Michael Igoe commented, "It's time teaching unions joined the real world. Live zoom meetings are a way of life for business, we've been doing it for years from home."