Teachers to benefit the most from inflation-busting pay rise
Chancellor, Rishi Sunak announced almost 900,000 public sector workers who have been working on the front line fighting the coronavirus pandemic will be rewarded with an inflation-busting pay rise, with teachers benefiting from the rise the most.
The announcement came after months of political pressure to reward frontline key workers for their efforts. Public sector workers including doctors, dentists, teachers, police officers and the armed forces will benefit from the rise. But no new rise has been announced for other NHS staff including nurses, care workers cleaners and porters who have all risked their lives and more than 300 NHS workers have lost their lives throughout this pandermic.
With inflation currently just 0.6%, the biggest increase of 3.1% goes to teachers, followed by the doctors and dentists receiveing 2.8%.
Gavin Williamson, Education Secretary has accepted accepted all the recommendations from the independent School Teachers' Review Body and has confirmed that starting salaries for new teachers will rise by 5.5 per cent next year, with the upper and lower boundaries of the pay ranges for all other teachers to rise by 2.75 per cent. The recommendations amount to a 3.1 per cent increase in the overall pay bill for 2020-21 – which is teh biggest pay rise in 15 years, says the Department for Education (DfE).
Below is a breakdown of the pay rises in full.
School Teachers 3.1 per cent
Doctors & Dentists 2.8 per cent
Police Officers 2.5 per cent
Armed Forces 2 per cent
National Crime Agency 2.5 per cent
Prison Officers 2.5 per cent
Judiciary 2 per cent
Senior Civil Servants 2 per cent
Senior Military 2 per cent
Mr Williamson said: "We want to make teaching attractive to the most talented candidates by recognising the outstanding contribution teachers make to our society. "This is why we are introducing the biggest pay rise the profession has seen since 2005, with above-inflation rises to the pay ranges for every single teacher in the country, ahead of introducing a £30,000 starting salary by 2022.


"Inspirational teachers change millions of lives by giving our children the drive and desire to learn, and reforms to teacher training, early career support and teachers' pay are key to the Government's plans to improve school standards."
Chancellor of the Exchequer Rishi Sunak said: "These past months have underlined what we always knew – that our public sector workers make a vital contribution to our country and that we can rely on them when we need them. It's right therefore that we follow the recommendations of the independent pay bodies with this set of real-terms pay rises."


"Each award is recommended by independent pay review bodies, and this year government accepted the headline recommended rise for each workforce. This year's pay awards reflect the enormous effort made by those in the public sector in responding to the unprecedented challenges for the country during the Covid-19 outbreak."
Last month Prince Charles praised teachers and schools in a video message for "going above and beyond for their pupils" during the pandemic. He also noted the astonishing job parents have done with trying to balance homeschooling and working.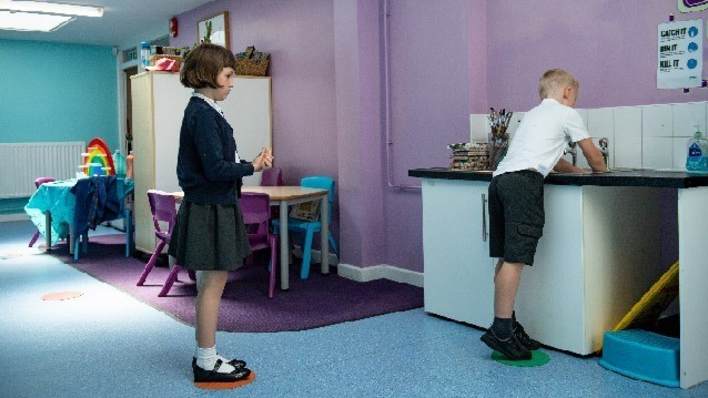 However, in a recent survey many parents have expressed their frustration and found homeschooling to be a living hell. The survey found that the quality of lessons and set work varies widely, even within a school, as well as variation in the level of pastoral support being offered. With some schools giving out minimal homework, to others issuing full-on daily timetables, it has caused a lot of anxiety within the parenting community. The advice has been conflicting from schools as well as from the Government, which only added fuel to the fire.
The pay awards for the armed forces, prison officers, senior civil servants and NHS staff work will be backdated to April this year, whereas the pay rise for police and teachers starts in September which run on a different pay year (September-August).
NHS nurses are not included in the announcement because they negotiated a three-year deal in 2018.They are already in the final year which expires in April 2021 and hasn't yet been renewed.
The Treasury pointed to the three-year Agenda for Change pay deal agreed in 2017, which it said saw starting pay for newly qualified nurses increase by 12 per cent, citing an average rise of 4.4 per cent for nurses outside of the most senior roles. The Royal College of Nurses has calculated that the average salary for a nurse has fallen by 8 per cent in real terms since the Tories were elected in 2010.
Unions said the pay rises which ministers have failed to commit to for months amid widespread public outcry are minimal in comparison to the real-term cuts seen over a decade of austerity.
They also highlighted that public sector, including social care workers – who have also risked their lives during the crisis – would receive no such increase. TUC general secretary Frances O'Grady said: "These rises are welcome, but there's still a long way to go to restore pay after a decade of real terms cuts," she said. "Many public sector workers, like job centre staff and local government workers, aren't getting these rises. They deserve a decent pay settlement too." "And the government should urgently announce a pay rise for social care workers, who put their lives on the line to care for others during this pandemic."
Social care workers are reliant on private firms which is why they not get a dedicated pay rise either. Policing minister Kit Malthouse said social care workers would have to rely on increases in the minimum wage to improve their pay levels.
As almost a million public sector workers were awarded pay rises, Mr Malthouse said: "The vast majority of social care workers are paid in the private sector so our ability to influence pay rates there is limited." He told BBC Radio 4's Today programme that - apart from "nationalising the entire thing" - the minimum wage rate was the best tool the Government had to recognise the efforts of care workers."
"What we have done is raise the level of the minimum wage very significantly over the last few years to get it up towards the £10.50 mark. That, we hope, will push through into these private sector jobs."
"Everybody looks at people who work in social care during coronavirus and thinks they have done a fantastic job in very, very difficult circumstances. But that's the mechanism by which we think we can increase pay in that sector."

Given that the whole nation were clapping for carers and front line NHS staff every Thursday evening for almost 10 weeks to show their appreciation this is very disheartening to those who risked their lives and continue to do so.
The Treasury said the money for the pay increases of up to 3.1% would come from existing departmental budgets, meaning cash-strapped government departments must work out how to pay for them.
Labour shadow chancellor Anneliese Dodds said the Conservatives had frozen public sector pay for seven years, and the rises they introduced after that failed to plug the gap. She said the pay rise was "good news" but added that it "won't make up for a decade of real-term pay cuts" for many front-line workers.
The British Medical Association said doctors had hoped for "far better". Dr David Wrigley, vice-chairman of the British Medical Association, said doctors would feel "disappointed and let down" as pay "has fallen way behind" over a decade. He told BBC Breakfast: "These are the sort of rises we'd expect to see in normal times, not in a time when many of us have not had a day off in six months and have been putting our lives on the line."
Health Secretary Matt Hancock said: "These past few months have been an incredibly challenging time for our NHS, and the resolve, professionalism and dedication of staff has been on show throughout. We are able to accept the recommendations of the independent pay review body for dentists and doctors."
"I am committed to supporting the entire NHS and social care workforce through improved recruitment and retention and delivering 50,000 more nurses and 6,000 more doctors in general practice."
Related articles
Homeschooling hell
Plans to fully reopen all primary schools dropped
How supply teaching staff can help bridge the gap
Teachers urged to give up a slice of their six-week holiday