Could a primary teacher be the most rewarding role?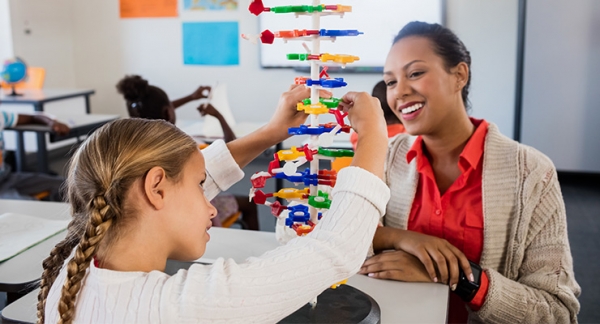 A job as a primary teacher is unquestionably one of the most rewarding careers you can have. You have the ability to inspire young children during some of the most important years of their development. You day to day role is exciting, varied and far from boring. The most satisfying aspect of being a primary school teacher is knowledge that what you are teaching these children are concepts and nurturing their naturally inquisitive minds. You are setting the foundations needed to develop the skills that they will continue to build on for the rest of their lives.
What does primary teaching involve?
The impact you can have as a primary teacher is immense. You can set children up to succeed from the start, making sure they all have access to a brilliant education.
Primary teachers work with children between the ages of 3 and 11 and are required to teach all of the subjects which are in the national curriculum. This means that anybody looking for a primary teaching role needs to have good, basic knowledge of all these subjects for key stages 1 and 2. You will also be responsible for their educational, social and emotional development while in your care.
As a primary school teacher you will need to be creative, well organised, good at planning and have a lot of patience as working with young children can be very challenging. As well as this you need to be reasonably fit and be able to communicate effectively in written and spoken English. Responsibilities of a primary school teacher include (but not limited to):
Plan lessons, prepare teaching materials and then teaching what you have organised
Marking and assessing work which you have assigned
Working and liaising with other industry professionals • Attending staff meetings and any training courses which may be required
Manage class behaviour
Discuss children's progress and other relevant matters with parents and carers
Work with other professionals like education psychologists and social workers • Attend meetings and do training organise outings, social activities and sports events
You will need to be motivated, committed and a good sense of humour
Each day is varied as you will be carrying our activities from developing young pupils' literacy, to teaching them about maths, science, arts, PE, music, and basic computing skills.
Your teacher training will help you build and use all the skills and creativity you need to succeed in the classroom. Remember to always talk to experienced teachers and practitioners as you discover how to create and deliver inventive and engaging lessons. After all sharing best practise is the key to great success.
Teaching the same class over the course of a year means you can gain an in-depth understanding of your pupils' characters and different skills. This gives you a big responsibility to ensure every child gets the most out of their education – offering unbeatable job satisfaction as you see how they change and grow as individuals.
The opportunity to move between year groups and different stages of learning just adds to the variety of the job – and as your teaching skills flourish, so can your career. As a great primary school teacher, you could progress to key stage head, a position in a senior leadership team, or even become a head teacher. In doing so, you could use your vision and experience to make a difference to the entire school.
What Qualification are needed for primary teaching?
The teaching profession looks for the highest calibre of candidates. To become a primary teacher you will need to have completed the Initial Teacher Education or Training (ITET) and gain Qualified Teacher Status (QTS). In addition to this you will also need:
• A-C GCSE grades in Maths, English & Science
• Enhanced background checks by the Disclosure and Barring Service (DBS) which must be clear of any convictions You can study for a university degree and gain QTS at the same time by doing one of the following courses:
• BA (Hons) degree or BSc (Hons) degree with QTS
• Bachelor of Education (BEd) degree course In addition to being a qualified teacher, having classroom experience is extremely powerful. Whether it be day supply or temporary work placements all the experience you gain will help to become a higher quality candidate.
Working hours and conditions
A typical working week for a full-time teacher is an average 37 hours a week, with typical class times starting between 8.30am and 9.15am and finishing around 3.15pm to 4pm. Outside of classroom hours, teachers normally will be planning lessons, marking work and also taking part in activities, like as parents' evenings and outings. Teachers normally work 39 weeks a year split over three school term.
How TLTP can help you find a Primary Teaching job
Whether you are an NQT, or interested in becoming a primary teacher or looking for your next role in teaching, London Teaching Pool Ltd (TLTP) can help you. See our latest primary teacher jobs. Simply register your details or if you prefer a request a call back and one of our experienced recruitment consultants will phone you.
Every school varies when it comes to what they're looking for in a primary school teacher. The best way to prepare yourself for this is to make sure that you have a strong and up to date CV that is tailored to teaching. See our CV tips which will help you in creating a winning CV. Once you're through the selection stage we've put together some useful interview advice to help you prepare and get through the next hurdle.
Register and sign up to job alerts so that you can keep up to date with the latest TLTP job postings. This means that you'll be the first to know when vacancies you are interested in arise. This saves you time because instead of you looking for jobs, jobs find you.
Download the FREE TLTP Education App where you can search for jobs and apply whilst on the go. You'll be able to save your preferences, receive notifications when new jobs are added and access lots of useful information.